CELTA Tutors
Jennifer Johnston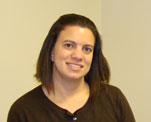 Hello! I started teaching English as a Second Language in August 1993 and I still love it! I have taught English in Niigata, Japan and in Masan, South Korea, and the rest of the time at the English Language Institute at Missouri State University. In my free time, I enjoy spending time with my children, learning foreign languages, and traveling.
Education
MBA Missouri State University
MS English/TESOL, Illinois State University
BA Spanish
CELTA Tutor Training
Professional experience
CELTA tutor since 2015
Over 30 years teaching ESL and EFL
Teacher training for groups of teachers from Brazil and Korea
Languages/Travel
Spoken languages:
Countries traveled to:
Much of East Asia and South America
France
Spain
Mexico
Puerto Rico
Panama
Australia
And lots more
Phil Bridges
Hi everybody. I began my first job teaching English as a Second Language in 2007 as a temporary "fall back plan." Ten eventful and fulfilling years later, it is hard to imagine wanting to do anything else. I am currently working at Missouri State, where I have done a little bit of everything, including teaching in the English Language Institute and special programs, developing curriculum and assessments, and coordinating professional development for the program. I began teacher-training in 2016. I love working with CELTA trainees and helping them maximize their strengths in ways that benefit their students. When I'm not teaching, I enjoy spending time with my wife and kids, reading, playing music, and watching baseball.
Education
MA English, Missouri State University
Graduate Certificate in TESOL, Missouri State University
BA in French & Literature (double major), Southwest Missouri State University
CELTA Tutor Training
Professional Experience
Over 10 years teaching ESL
Extensive participation in Professional Organizations, presentations and committee roles
Languages/Travel
Spoken languages:
Countries traveled to:
Canada
Mexico
Colombia
Chile
Honduras
Belize
Argentina
Uruguay
… and a few more