International Virtual Exchange Project
What is an international virtual exchange program?
According to a well-recognized scholar in telecollaboration – Robert O'Dowd, the virtual exchange is construed as an umbrella term in the practice field of telecollaboration and "involves the engagement of groups of learners in extended periods of online intercultural interaction and collaboration with partners from other cultural contexts or geographical locations as an integrated part of their educational programs and under the guidance of educators and/or expert facilitators" (O'Dowd, 2018, p.5).
The definition of virtual exchange given by the Bureau of Educational and Cultural Affairs (ECA) specifies the elements of virtual exchange, that is referred to as "an arc of engagement with the beginning, middle, and end that is built and centered on the participants and project goals. Virtual exchange should use a mix of synchronous (live, e.g. Zoom, Google Hangouts) and asynchronous (time-delayed, e.g. recorded, social media posts, or email) technologies that allow participants to interact and exchange beyond surface level connections" (ECA, 2019, p.2).
Examples of ECA's Virtual Exchange Courses
GLOBE Pilot

This pilot connected students at schools in four different countries, all of whom were using the GLOBE (Global Learning and Observations to Benefit the Environment) citizen science program to perform environmental monitoring in their community. Over three months, students shared photos, videos, and stories over a closed Facebook page and connected live for six hour-long sessions during which they learned about mosquito-borne diseases, science communication, and producing tools to communicate with their communities about public health. Some live sessions also included guest presentations from museum designers and filmmakers. Because students were able to remain in their communities and their natural environment while participating, virtual exchange was the ideal medium for this program(ECA, 2019, p.3).

Virtual Book Clubs

Building off of traditional book clubs, the Collaboratory piloted a virtual book club for over 160 people in North Carolina, Afghanistan, Liberia, Nicaragua, and the Philippines who read Hidden Figures and came together for a series of in-person and virtual discussions focusing on women in Science, Technology, Engineering, and Math (STEM), diversity and inclusion, and the role of community. The five-month long virtual exchange culminated with a global virtual guest speaker, an astronautics engineer, who spoke to the participants about her work on creating capsules for reentry and leading teams for NASA (ECA, 2019, p.3).

Virtual Sister Cities

Building on established Sister City relationships between Kathmandu, Nepal and Eugene, Oregon, the American Space in Kathmandu is hosting the virtual exchange program that engages various civil groups in Nepal and their counterparts in the U.S. focusing on makerspace programs, urban planning, and municipal exchange. Participants on this program worked in cross-cultural, cross-virtual groups to create proposals to present to the Kathmandu municipal government for adoption (ECA, 2019, p.3).
Resources for Designing Virtual Exchange Courses
ECA Virtual Exchange Toolkit is developed to help faculty to design virtual exchange courses. It includes the examples mentioned above and the best practices for teaching and technology choices.
Tips for Designing and Implementing International Virtual Exchange Projects(ECA, 2019, p.2)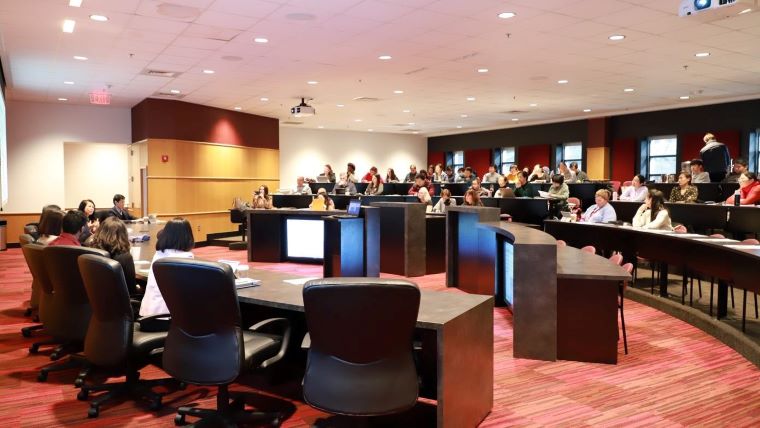 References:
Bureau of Educational and Cultural Affairs. (2019). ECA virtual exchange toolkit. https://state-low.app.box.com/v/VirtualExchangeToolkit
O'Dowd, R. (2018). Telecollaboration to virtual exchange: State-of-the-art and the role of UNICollaboration in moving forward. Journal of virtual exchange, 1. 1-23. DOI:10.14705/rpnet.2018.jve.1.